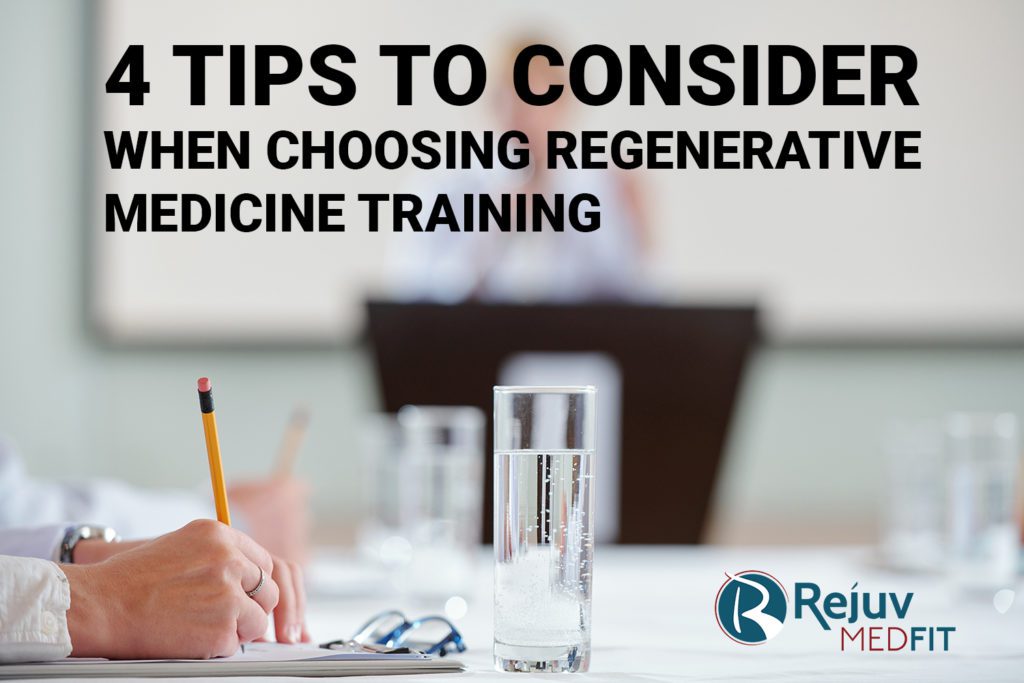 There are a lot of options when it comes to regenerative medicine workshops, conferences, events and you only have so much time in a day, week, year – so how do you maximize your time and select the right event for you? 
1. What are the defined topics and what do you want to get out of the event?
Too often practitioners attend conferences that try to educate on all body parts, leaving the education to a very basic or highly advanced technique. This makes it hard for attendees to gain a full understanding of the how and why the treatments are being performed. The MedFit Mastermind conference is unique in that it focuses each conference on one of four main body regions. Rejuv MedFit believes that providing the marking and palpation, ultrasound diagnostics, and injection technique of each of the areas will allow practitioners at all levels a more complete understanding of how regenerative injections treatments can improve patient success. During Day 1 and Day 2, there is over 3 hours of live patient and cadaver workshops each day. This allows ample time for groups of similar experienced practitioners to move through all three stations (marking/palpation, US training, and cadaver injections). Live models take part in the first two stations, so that you can learn on real bodies, and then practice the injection techniques on real cadavers. Each station is led by a qualified and experienced practitioner that will help guide the education.
2. Do you want just medical education, or do you want an overall clinic success education?
No matter how good you are as a practitioner, if nobody knows about you, the clinic cannot succeed. If you are an extremely skilled practitioner but struggling to keep your clinic(s) growing or even operational, then you may want to consider an event that offers both medical and clinic education. It is for this reason, that MedFit Mastermind Conferences include a FREE TICKET with each registration, so you can bring a staff member to attend the business track. They will have the opportunity to increase their skills and learn about marketing, sales, best business practices, and more to help your clinic grow, avoid issues, and thrive in the regenerative realm. In addition, you will receive CMEs and have access for 90 days to all educational and video content.
3. Does the event work with your schedule and qualifications?
Does the conference work with your schedule or prevent you from attending due to limitations on travel? Does the conference have strict qualification requirements that prevents you from attending? At Rejuv MedFit, we believe that all those who are wanting to learn, should have the opportunity to learn! This is done in two ways, by making the event available virtually or in-person and allowing ALL medical practitioners to participate. First, you can attend the conference from all corners of the planet with the ability to access all content & video for 90 days post event. This way, if you cannot attend on the live days, you have plenty of time to watch and re-watch all aspects of the event.
Secondly, MedFit MasterMind is for all medical professionals who are injection certified from physicians (MDs) to APPs (NP/PA), Chiropractors (DC), and Naturopaths (ND). If you are looking to spread regenerative medicine, it's important that you get the education that you are looking for.
4. How long has the event been around and what is the background of the host?
How big of event do you want to attend? How long has the event been around? These are a few questions to consider when determining which event is right for you. Research the event to ensure they are qualified and legitimate. There are a lot of get-rich schemes but also some amazing well-respected events. At Rejuv MedFit we have fine-tuned the MasterMind Conference over the past 10 years to deliver an effective and impactful event to over 1000 medical professionals in over 20 countries.
If you are ready to take your practice to the next level and MedFit MasterMind is what you are looking for, register for the upcoming July conference – either onsite or virtual. Reserve your spot today, as space is limited. For additional information, view the July conference schedule or call 320-492-9085.